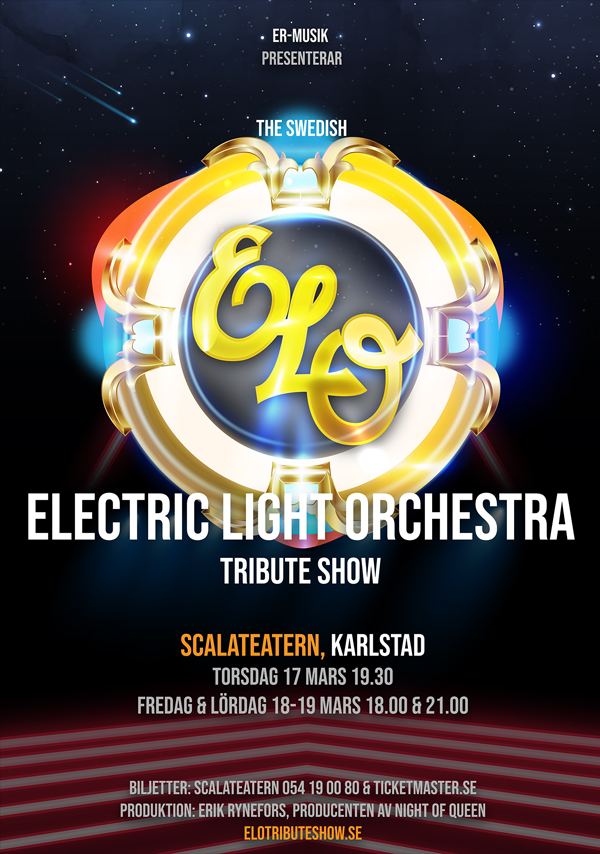 En unik storslagen hyllning till giganten Jeff Lynne & ELO!
En show som är allt annat än "less is more" under 100 minuter i högt tempo.
SCALATEATERN
17 MARS 19.30
18-19 MARS 18.00 & 21.00




Biljetterna bokas på
Scalateatern 054-190080…eller klicka på
KÖP-knappen!


KÖP BILJETT ONLINE   

Vi bjuder på 22 låtar "sound-alike". Vilka hits hoppas du på?
Livin' Thing, Turn To Stone, Hold On Tight, Mr Blue Sky, Don't Bring Me Down, Roll Over Beethoven, Twilight…
The Swedish ELO Tribute Show är till stora delar densamma som Night of Queen med kapellmästare Tomas Gantelius i spetsen, som står för arrangemang till all musik. Nya medlemmar är fem stråkmusiker samt Tobias Östlund som leadsinger, vilka bidrar till att skapa det unika ELO-soundet.
År 2017 gav sig frontfiguren och låtskrivaren Jeff Lynne ut på turné med Jeff Lynne´s ELO – Alone In The Universe Tour. Turnén fortsatte 2018 och kom till Globen, Stockholm. Besöket gav mersmak och har varit en inspirationskälla inför vår svenska hyllning till Jeff Lynne & Electric Light Orchestra.
Med hopp om att detta blir något att se fram emot, uppleva och minnas!
Välkomna till Scalateatern i Karlstad i mars 2022
Erik Rynefors, Konstnärlig ledare & Arrangör